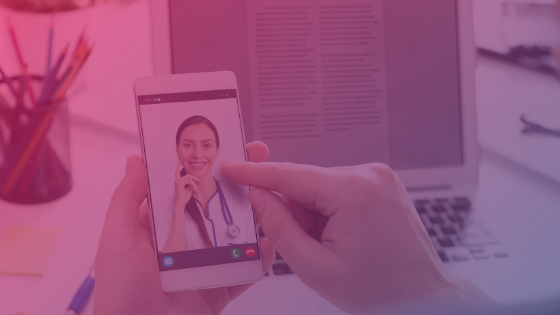 01 Aug

Steps To Build Your Telehealth Marketing Plan Strategy

With the global pandemic still at large, medical practices have had to quickly alter how they provide care. Changes to their healthcare marketing strategy can have helped to make or break practices trying to adjust to this new normal. At Prescription PR, we want to help ensure that your practice remains successful. If you're looking to learn more about the steps needed to build your telehealth marketing plan strategy, continue reading.
Create A Telehealth Marketing Plan
Just like any other aspect of a business, the first step in building your telehealth marketing plan strategy is to come up with a plan that you can follow. The specifics of this plan will vary on a practice to practice basis, but it is important to come up with a guide map. However, to help you create this, we recommend asking the below questions when coming up with a plan:
What are you looking to accomplish with telehealth?

How will you balance telehealth with in-person appointments?

Will you be using telemedicine to treat current patients or to add new ones?

How will you need to alter your healthcare marketing strategy to promote telehealth?
Ask Your Patients
Incorporating telehealth services into your practice will mean nothing if you have no patients to utilize them on. That is why you must gauge your patient's interest in scheduling sessions for telehealth. As experts in healthcare marketing, our team at Prescription PR can help create a survey or questionnaire to help determine how successful your practice would become if you introduced telehealth to your list of services.
Train Your Staff
If you do decide to start using telehealth, you must start training your staff as soon as possible. Utilizing this technology will be a new experience for both patients and staff alike, so you need to do everything in your power to mitigate problems from taking place.
Increase Your Healthcare Marketing
Once you've heard that your pre-existing patients are willing to schedule sessions of telehealth, it will be time to branch out. The key to a successful medical practice is having a steady influx of patients. At Prescription PR, we have the healthcare marketing methods that can keep traffic to both your waiting room and website at an all-time high. When you've fully implemented telehealth marketing plan into your practice, it will be time to start advertising this fact. We'll help your message reach a new target audience through the use of:
Blogs and backend content

E-newsletters

Social media posts
Contact Us For A Telehealth Marketing Plan
People around the world are still trying to adjust to life during COVID-19. If you're a medical practice that needs help with their healthcare marketing, we'll be there to help. We can also assist in setting up the steps needed to build your telehealth strategy. For more information on why you should work with us, contact our team at Prescription PR today.
Contact Us For Your Telehealth Marketing Plan
Summary

Author Rating





Brand Name
Product Name
Healthcare Marketing, Telehealth Marketing Plan
Price
Product Availability